Top 5 Places to Visit in Indonesia
This post may contain affiliate links. Please see my disclosure policy. As an Amazon Associate I earn from qualifying purchases.
Take It From a Local 🙂
Having spent most of my childhood in this beautiful country, Indonesia is by far one of my favorites places to visit. Made up of over 17,500 islands, Indonesia boasts a spectacular array of cultural, culinary, and scenic smorgasbord. From rice paddies, to volcanoes, to giant waterfalls, to beautiful sandy beaches, Indonesia offers something for everyone! Not to mention the wide options of flavor-bursting meals, abundance of fresh coconut water, and colorful array of edible treats (like this PINK smoothie bowl)! So in case I've convinced you to put Indonesia on your bucket list, here are 5 of my favorite places to visit!
Places to Visit in Indonesia #1: Labuan Bajo
In the recent years, Labuan Bajo has attracted worldwide attention as Indonesia's hidden gem. Last January, Evan & I were blessed with a trip to this island with my parents and brother, where we went on a four-day boat cruise (now keep in mind, these are not your typical fancy cruises, but we did each have our own closet-sized "cabins").
Once a simple fishing village on the west side of Flores, Indonesia, Labuan Bajo offers some of the most beautiful underwater spots, surrounded by lush tropical greeneries. Typically, travelers fly to Labuan Bajo via a 75 minute flight from Denpasar, Bali. While there are lots of things to see on the island, Labuan Bajo's pride and joy is being known as a "gateway" to the Komodo National Park, where you can see Komodo dragons up close in their only natural habitat in the world. What's a Komodo dragon, you ask? Scroll down a bit more and see for yourself!
The Infamous Komodo Dragon!
Places to Visit in Indonesia #2: Bromo Tengger Semeru National Park
In our opinion, Bromo Tengger Semeru National Park boasts some of the most incredible scenic view in Indonesia. While I've visited Bromo several times, the beauty of watching the deep orange sun rise behind the Bromo Volcano never fails to captivate me! To get the most of your Bromo experience, we recommend renting a jeep, which makes for a fun ride at 4am (and doubles as a great photo-op!)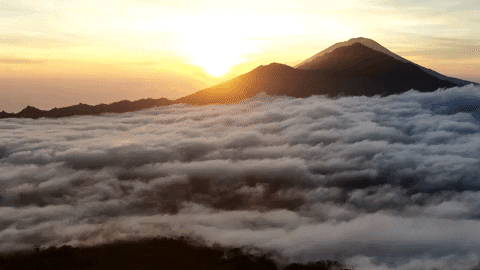 Places to Visit in Indonesia #3: Bali
When people think of Indonesia, they typically think of Bali, and for great reasons! Also known as "Island of the Gods", Bali offers a wide variety of activities for all kinds of travelers. So whether it's dolphin watching, surfing, meditating, hiking, scouting hipster new cafes, or exploring the art scene, chances are Bali's got an activity for you. As a plus, Bali is also dubbed as "A Vegan's Paradise" with its endless options of plant-based meals, along with other meat-based dishes! As it has drawn large groups of tourists over the years, certain areas of Bali are high in tourism, while others are still remote and more cultural, so keep this in mind before booking your hotels. Bali's high season is in May-October and while it can get a bit crowded with tourists, we think it's also the best time to visit!
Places to Visit in Indonesia #4: Green Canyon
Green Canyon is located in the West Java Province, about a 45 minutes drive from Pangandaran Beach. Growing up, my parents would take my brother & me for short vacations to Pangandaran, but it wasn't until Summer 2018 that we visited the Green Canyon. Now that we have, it's on our "Favorites" list! History has it that a French tourist dubbed this place the Green Canyon due to the river's clear green-tinted water and the lush green moss hanging on the cliff. Words do not do this place justice! So go ahead, do yourself a favor and experience the best kept Secret of Pangandaran.
Places to Visit in Indonesia #5: Nusa Penida
On July 2018, I finally made it to Nusa Penida Island. While relatively close to mainland Bali, Nusa Penida is still virtually unknown to the rest of the world. Because it is relatively undeveloped, you won't find fancy cafes or high-class accommodations here, but Nusa Penida is one of my favorite places in the entire world for its fresh air, clear water, fantastic views, and friendly locals. Fun fact: I rode a motorcycle for the 3rd time on this island! One of its "hot spots", Kelingking Beach is often dubbed the "dinosaur cliff" for its close resemblance to a T-Rex head (Want to see what it looks like? See post below!) Other popular spots include Angel's Billabong and Broken Beach.
Looking for More Travel Inspiration?
Subscribe to DWELL and get new travel ideas delivered straight to your inbox! In addition, follow along on Pinterest, Facebook and Instagram to get all the latest updates!
Have you been to Indonesia? What did you think? Feel free to leave a comment below!
Copyright © All Rights Reserved. Content is written by Michelle Schmidt of dwellbymichelle.com.