This post may contain affiliate links. Please see my disclosure policy. As an Amazon Associate I earn from qualifying purchases.
What is Bibimbap?
The next time you eat out at a Korean restaurant, take a look at their menu. Most likely, you'll find "Bibimbap" listed as one of their most popular dishes. This isn't surprising, considering Bibimbap is one of the most iconic dishes in Korea. So what exactly is it?
When translated, the term "bibim" refers to the act of mixing various ingredients, and the word "bap" means rice in Korean. The result? Bibimbap: a delicious Korean rice bowl meant to be mixed together!
Bibimbap is typically composed of cooked rice, a variety of cooked vegetables, meat and/or an egg. While all these ingredients are certainly tasty on their own, the key to a great Bibimbap lies in the gochujang — a spicy, slightly sweet red pepper sauce that you pour over the rice mixture.
Traditionally, Bibimbap is served in a hot stone bowl (dolsot). This preparation allows the ingredients to cook and sizzle as you eat – quite an experience for sure! While most Korean restaurants will serve Bibimbap in a hot stone pot, it is certainly optional. Either way, we think you'll love this easy Bibimbap recipe, incredibly rich in colors AND flavors!
Mix It Up!
For the last few years, Bibimbap has been one of Evan and I's favorite dish to eat and to make. While we enjoy this recipe as is and typically eat it that way, we love serving bibimbap when hosting guests because it allows us to mix and match ingredients to suit every dietary preferences! So versatile and so easy to make!
Here are a few variations to make this your own:
Protein: marinated beef, roasted pork, grilled chicken, crispy shrimp, glazed salmon, baked tofu/tempeh, fried egg
Veggies: mixed greens, bell peppers, snap peas, zucchini, onions, bokchoy, microgreens
Toppings: roasted seaweed strips, fresh cucumber, green onions
Base: use cauliflower rice or quinoa instead of the cooked rice!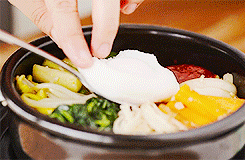 Easy Bibimbap Recipe (Korean Mixed Rice Bowl)
You'll love this easy and healthy Bibimbap recipe, incredibly rich in flavors AND colors! Plus, you can mix and match ingredients to make endless variations!
Ingredients  
Meat (omit if vegetarian)
1/2

lb

ground beef or turkey

1/2

tbsp

soy sauce

, sub tamari or coconut aminos

1/2

tbsp

sesame oil

1/8

tsp

garlic

, minced
Mixed Vegetables
3

tbsp

sesame oil

1

cup

carrot

, julienned

1

cup

spinach

1

cup

shiitake mushrooms

, sliced

1

cup

bean sprouts 

2

cloves

garlic

, minced

2

tbsp

soy sauce

, sub tamari or coconut aminos
Other Ingredients/Toppings
2-3

cups

white or brown rice

, cooked

2

large

eggs

3

tbsp

gochujang sauce

2-4

tbsp

kimchi

(optional)

2

tbsp

toasted sesame seeds
Instructions 
Mix the ground beef/turkey with 1/2 tbsp soy sauce, 1/2 tbsp sesame oil, and garlic. Cover and let marinate while you prepare mixed veggies.

In a medium pot, boil some water. Blanch the bean sprouts for 4-5 minutes. Drain and set aside in medium bowl. Season with a dash of sesame oil, salt, and garlic (to taste).

Over medium heat, add 1 tsp sesame oil to a large skillet. Once the oil is hot, add carrots and season with soy sauce, salt, and minced garlic to taste. Cook until lightly browned (2-3 minutes). Repeat with remaining vegetables. Set aside.

On medium-high heat, add the meat with marinade. Stir to break up into smaller pieces until thoroughly cooked (about 5 mins). Meanwhile, crack in eggs to a smaller skillet and cook sunny side-up.

To serve, divide cooked rice among 2 bowls. Add ground beef, carrots, spinach, mushrooms, seasoned bean sprouts, kimchi (optional), and egg. Serve with gochujang sauce, and top with toasted sesame seeds.