Photo Credit: MightyNest
What is Mighty Fix?
Mighty Fix is a popular subscription box from Mighty Nest that sends its subscribers one eco-friendly item per month. They have a wide selection of items that subscribers can choose from, including skincare products, kitchen products, laundry products, and much more!
According to their website, the mission of MightyFix is to "help you tackle one healthy change each month with green goods that are high quality, useful, and fun. "
How Much Does MightyFix Cost?
MightyFix subscriptions cost $11/month, or $8.25/month on their annual plan. Each "fix" is guaranteed to be valued more than $10 and ships free, including any add-on items you can purchase (optional)! One of my favorite things about MightyNest is they will donate 15% of your purchases to the school of your choice!
My Review of Mighty Fix
Delivery & Packaging
According to their website, "nearly all monthly MightyFix shipments leave [their] warehouse in recyclable mailers and boxes made from at least 75% post-consumer waste paper. These sturdy containers protect items during shipping and come from renewable resources." I was pleased to find that this is the case! The mailer they used to ship my Fix was in good shape, and there was very little plastic packaging to be found! I also had a great experience with having my Mighty Fix sent out within 3 days!
As included in each Mighty Fix box, I also found an info card. This card lays out more details about the featured item and explains how this item is a "healthier" option! In this case, I learned that using Food Huggers can help preserve my produce AND reduce the need to use plastic wrap.
The Featured "Fix": Food Huggers!
The featured item in my 1st Mighty Fix box is a set of five Food Huggers that come in various sizes.
Since receiving my food huggers, I've been surprised to find how often I reach for them! I use them on half bananas, apples, onions, zucchini and much more! The different sizes allow for a snug fit on most things! As a result, my fruits and vegetables seem to last longer! It is also incredibly easy to clean, and nestles together to save even more space!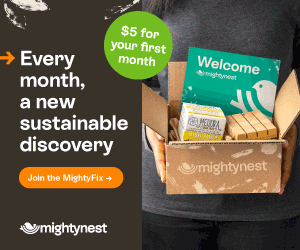 Get your first month for only $3!
Is Mighty Fix Worth It?
Overall, I love how Mighty Fix makes it so much more convenient for my family to live a more eco-friendly life. It was so fun to unbox my first ever Mighty Fix – and to find a product I would actually use! At only $11/month (and $0 shipping!), I would recommend Mighty Fix! Especially for those of you trying to live a more sustainable and eco-conscious lifestyle!
LIMITED TIME DEAL: Get one month of MightyFix for only $3!
(P.S: you can also click here to see more savings!)
Have you gotten a Mighty Fix? What did you think? Feel free to leave a comment below!
Looking for More Product Reviews & Deals?